Artikel ini menyajikan 9 sumber dan website yang selalu menyajikan kombinasi (palette) warna yang keren beserta kodenya, untuk dijadikan inspirasi dan digunakan dalam proyek desain kita (diagram (chart), slide PowerPoint, website, banner, antar muka aplikasi dan desain grafis lainnya).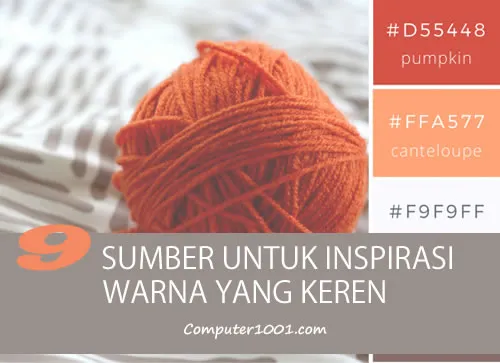 Warna bisa menarik perhatian dan mempengaruhi suasana hati serta persepsi. Namun, menemukan warna yang tepat dan kombinasinya yang serasi juga tidak selalu mudah. Disamping itu, kita sering tidak tahu kode warnanya. Oleh karena itu, kunjungi kumpulan sumber berikut ini untuk mendapatkan inspirasi warna dan kodenya.
Catatan:
Kode warna ada beberapa: HEX, RGB, CYMK, dan HSL. Contoh kodenya bisa dilihat pada gambar berikut. Nilai HEX biasanya digunakan pada aplikasi pengolah gambar (contoh: Photoshop) dan CSS / HTML untuk desain web. Sedangkan aplikasi Microsoft Office menggunakan nilai RGB dan HSL. Lihat di sini: Cara Menggunakan Warna dari Internet di Excel, Outlook, PowerPoint, dan Word.

Ada beberapa sumber yang hanya memberikan nilai HEX saja. Untuk mengkonversi nilai HEX ke RGB, CYMK, dan lain-lain, bisa menggunakan tool di situs ini: Color Converter.
9 Sumber dan Website untuk Inspirasi Warna yang Keren
Color Hex
Ada 16 ribu lebih palet warna dengan kode HEX dan RGB. Kita bisa download gambar palet warna dalam dalam format PNG.

Colorion
Situs ini hanya menyediakan kode HEX saja. Klik pada salah satu warna untuk mendapatkan kodenya. Di sini kita juga bisa melihat kode HEX untuk warna-warna dasar (pink, ungu, merah, cyan, biru, coklat, putih, oranye, kuning, dan abu-abu).

COLOURlovers
Ada jutaan palet warna yang bisa ditemukan di COLOURlovers, yang dibuat oleh 6 juta lebih anggotanya. Kita juga bisa membuat pattern dari palet warna tersebut. Warna dalam kode HEX dan RGB.

ColorFavs – sudah tidak aktif
ColorFavs memiliki 26 ribu lebih palet warna. Kode warna diberikan dalam HEX, RGB, HSL, CMYK, dan Websafe. Di situs ini kita juga bisa upload gambar atau foto untuk membuat palet warnanya.

Design Seeds
Berbeda dengan situs yang lain, situs ini melengkapi masing-masing palet warna dengan gambar. Warna dalam kode HEX. Kita bisa mencari inspirasi warna berdasarkan musim atau obyek-obyek tertentu, seperti tumbuh-tumbuhan, hewan, dan lain-lain.

BrandColors
Di situs ini kita bisa melihat skema warna (color scheme) dari berbagai merek terkenal di dunia. Seperti aplikasi, website, browser, hotel, universitas, dan lain-lain. Warna dalam kode HEX.

Flat UI Color Picker
Kumpulan warna flat dengan kode HEX dan RGB.

Website Color Schemes: The Palettes of 50 Visually Impactful Websites to Inspire You
Artikel ini menyajikan 50 website dan palet warna yang digunakan untuk dijadikan inspirasi. Warna dalam kode HEX.

100 Brilliant Color Combinations: And How to Apply Them to Your Designs
100 kombinasi warna yang diinspirasi oleh warna-warna alam, buah-buahan, pemandangan kota, dan obyek-obyek lainnya. Palet warna dengan kode HEX dan disertai gambar.