Tutorial ini membahas cara menyisipkan gambar dan nomor halaman di header dokumen Word. Seperti contoh gambar berikut, nomor halaman berada di sebelah kanan header dan gambar ditempatkan di sebelah kiri header.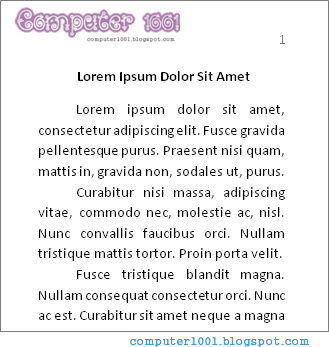 Berikut cara membuatnya:
Langkah-Langkah
Di Insert tab, Header & Footer grup, klik Page Number.

Pilih Top of Page dan dari galeri pilih Plain Number 3.

Nomor halaman akan muncul di header.

Lanjutkan dengan menyisipkan gambar. Di Design tab, Insert grup, klik Picture.

Sisipkan gambar yang diinginkan.

Akan muncul Format tab di Picture Tools. Di bagian Arrange, klik Text Wrapping (Word 2007) atau Wrap Text (Word 2010 dan versi di atasnya), dan pilih Behind Text agar gambar bisa digeser.

Perkecil ukuran gambar dan geser gambar ke sebelah kiri header.

Gambar dan nomor halaman sudah selesai disisipkan di header. Tutup header dengan mengklik ganda pada dokumen.
Tips: Ikuti cara di atas untuk menyisipkan gambar dan nomor halaman di footer. Untuk langkah nomor 2, ganti Top of Page dengan Bottom of Page.
Rekomendasi artikel