Tutorial ini membahas langkah-langkah detil pengiriman email kepada Undisclosed Recipients di Outlook.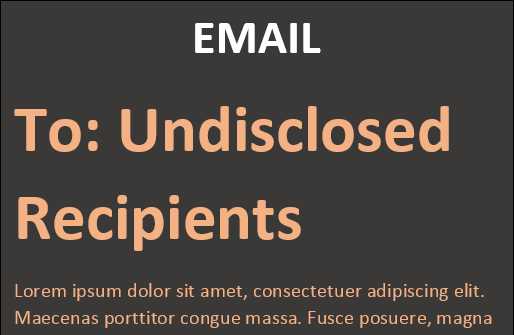 Penggunaan Undisclosed Recipients merupakan cara untuk mengirim email massal (email yang isinya sama kepada banyak orang), namun penerima tidak mengetahui kepada siapa saja email tersebut dikirimkan, karena di bagian To (penerima email) hanya tertulis Undisclosed Recipients.
Beberapa tujuannya adalah:
Anda tidak ingin penerima mengetahui alamat email penerima yang lain. Misalnya, saat mengirim email newsletter.
Dan sebagian orang tidak suka alamat email mereka diketahui orang lain yang tidak mereka kenal.
Berikut adalah cara membuatnya. Tutorial ini menggunakan contoh pembuatan di Outlook 2013, namun juga bisa diterapkan pada Outlook versi 2007, 2010, 2016, 2019; serta aplikasi email yang lain, seperti Gmail dan Yahoo.
Tahap 1: Membuat Kontak Undisclosed Recipients
Untuk menyembunyikan alamat email penerima, kita bisa menaruhnya di kotak Bcc. Namun, di kotak To juga harus berisi alamat email, karena beberapa email filter akan menganggapnya sebagai spam bila dibiarkan kosong. Untuk itu, kita akan membuat kontak email yang diberi nama Undisclosed Recipients.
Langkah-Langkah:
Buat kontak baru dengan cara: pada tab Home, grup New, klik New Items dan pilih Contact.
Tips: kita juga bisa menggunakan shortcut CTRL + SHIFT + C.

Buat pengaturan seperti gambar berikut:

Di kotak Full Name: ketik Undisclosed Recipients.
Di kotak E-mail: ketik alamat email Anda sendiri.
Setelah selesai, klik tombol Save & Close.
Sekarang kita sudah bisa mengirimkan email kepada Undisclosed Recipients dengan mengikuti langkah-langkah tahap 2 di bawah ini.
Tahap 2: Mengirim Email dengan Undisclosed Recipients
Langkah-Langkah:
Pada tab Home, grup New, klik New Email.
Tips: kita juga bisa menggunakan shortcut CTRL + N.
Selanjutnya pada:

Kotak To, ketik "un" dan pilih Undisclosed Recipients dari daftar yang muncul.
Kotak Bcc, masukkan semua alamat email penerima.
Tip: bila kotak Bcc belum muncul. Maka pada tab Options, klik Bcc untuk menampilkannya.


Selanjutnya ketik subyek dan isi email. Bila sudah selesai, tekan tombol Send. Contoh email yang dikirim.

Dan ini adalah contoh tampilan email yang diterima.

Catatan:
Bila email dibuka dengan aplikasi yang lain (bukan dengan Outlook), maka ada kemungkinan yang muncul di bagian To adalah alamat email, bukan tulisan Undisclosed Recipients. Tetapi tidak apa-apa, karena email penerima tetap tersembunyi.