Artikel ini menyajikan 9 video tutorial membuat berbagai icon (gambar orang, smartphone, chart) dan clipart; dengan menggunakan PowerPoint dan Word.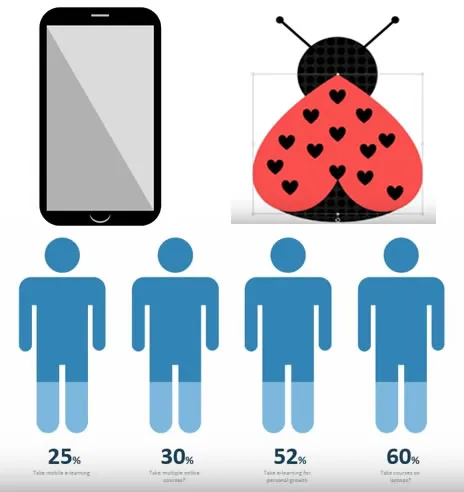 Fitur Shape pada aplikasi Microsoft Office bisa digunakan untuk membuat berbagai gambar. Kita bisa menggambarnya di Excel, Word, PowerPoint, atau aplikasi Office lainnya.
Delapan dari 9 tutorial yang disajikan menggunakan PowerPoint. Keuntungan menggambar dengan PowerPoint adalah kita bisa menyimpan langsung gambar yang dibuat ke dalam format JPG, PNG atau format lainnya; untuk digunakan di aplikasi yang lain.
Create Infographic Icons in PowerPoint using Simple Shapes
Video ini menyajikan cara membuat icon gambar orang, pie chart dan gambar tetesan air (teardrop); yang merupakan icon yang sering digunakan dalam infografis.

Transparent Human Infographic in PowerPoint
Cara membuat gambar orang yang transparan. Bisa digunakan untuk membuat chart infografis seperti di tutorial ini: Cara Membuat Grafik Kolom Model Infografis di Excel.

Design a People Icon in Powerpoint
Cara membuat berbagai macam icon gambar orang.

PowerPoint Infographics: Creating the Masking Effects
Cara membuat icon gambar orang dengan efek masking.

PowerPoint Infographics: Creating the Percentages
Cara membuat gambar orang dengan garis-garis untuk keterangan persentase pada infografis.

How to Create Icons in PowerPoint
Cara membuat berbagai icon di PowerPoint. Dapatkan kumpulan icon tersebut di sini: Download 18 Icon Cantik yang Dibuat dengan PowerPoint .

Create Clipart Using MS Word or PowerPoint
Cara membuat clipart gambar penguin di Word 2007, yang juga bisa dibuat di PowerPoint.

How to Make Cute and Colorful Clip Art in PowerPoint
Cara membuat gambar clipart yang lucu. Lihat di sini: 17 Website untuk Download Gambar Clip Art Gratis.

Create a Smart Phone Graphic Icon in PowerPoint
Cara membuat icon gambar smartphone. Lihat di sini: 32 Template PowerPoint Tema Perangkat Mobile – Smartphone