Template presentasi resume / CV (curriculum vitae) / daftar riwayat hidup yang kreatif akan membuat anda lebih menonjol dari pelamar lain dan menarik perhatian calon pemberi kerja.

Baik itu berupa animasi pada presentasi maupun slide yang terorganisir dengan baik serta hiasan gambar dan kombinasi warna yang cantik.
Template presentasi ini juga bisa anda simpan ke dalam bentuk video. Lihat tutorialnya di sini: 2 Cara Menyimpan Presentasi PowerPoint Menjadi Video.
Dapatkan juga template resume berikut:
50+ Million Resume Templates & Design Assets
Sign up for Envato Elements and get unlimited downloads from just $16.50/month.

Template Resume PowerPoint dengan Video Tutorial
Dua template berikut memiliki animasi dan slide transition yang membuat presentasi resume makin menarik.
Bila ingin menambahkan animasi yang lain, coba lihat di kumpulan template ini:
PowerPoint Animation Tutorial Motion Graphic CV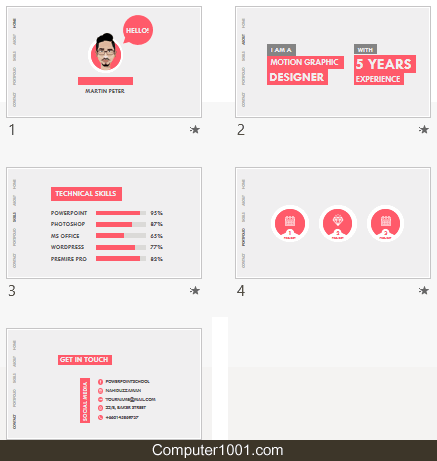 Bundelan download berisi 3 template dengan warna yang berbeda (merah, biru dan kuning). Link Download ada di deskripsi video.
Masing-masing template memiliki 5 slide yang terdiri dari:
Home: untuk diisi dengan foto dan nama pemilik resume.
About: sekilas tentang pemilik resume dan lama pengalaman.
Technical Skills: tentang kecakapan dan persentasenya yang digambarkan dalam bentuk infografis.
Portfolio: daftar proyek yang pernah dikerjakan.
Contact Me: informasi kontak.
Dan tentu saja kita bisa mengganti informasi apa saja yang ingin ditampilkan pada slide PowerPoint. Untuk cara mengedit dan pembuatan animasi resume ini bisa dilihat di video berikut.
How To Create a Portfolio, CV, Resume Presentation Template in Microsoft Office PowerPoint PPT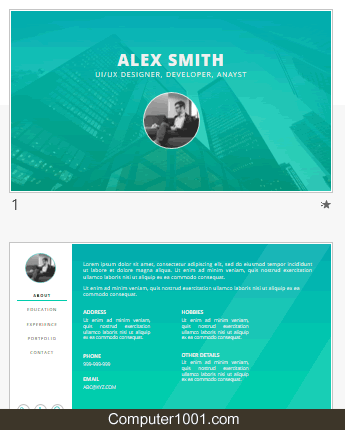 Template resume aksen warna biru dengan animasi yang simple dan tampilannya yang profesional. Di samping kiri ada judul masing-masing slide dengan latar warna putih.
Link Download ada di deskripsi video. Berisi 6 slide, yaitu: About, Education, Experience, Portfolio dan Contact.



Template Resume PowerPoint dan Google Slides
Situs Slidesgo memiliki kumpulan template resume untuk digunakan di PowerPoint dan Google Slides.
Fitur template:
Dirancang dengan format layar 16:9.
Setiap template dilengkapi dengan icon yang jumlahnya bisa mencapai seribuan untuk kita gunakan sebagai hiasan slide.
Juga ada gambar-gambar bagan, diagram, peta, tanda panah, dan gambar lainnya; yang ukuran dan warnanya bisa kita ubah.
Ada keterangan font dan warna yang digunakan.
Cara Download:
Klik link pada judul template di bawah ini.
Pada halaman template, klik tombol Use a Google Slides Theme atau Download a PowerPoint template yang berada di sebelah kanan atas.
Update: penghapusan template yang sudah tidak tersedia gratis.
Template resume dengan warna-warna yang cerah dan tajam akan segera menarik perhatian audiens. Berisi 14 slide yang terorganisir dengan baik serta ada hiasan icon yang cantik. Keseluruhan template ini memberi kesan kreatif, dinamis dan profesional.
Template ini juga memiliki 5 themes warna: oranye, hijau, ungu, biru, dan merah muda. Catatan: pilih warna themes yang berada di kanan atas (di bawah tombol download).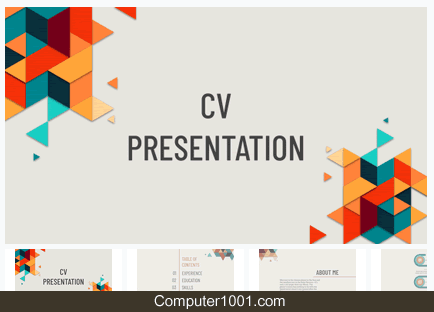 Satu lagi template resume dengan desain yang elegan dan profesional. Berisi 23 slide dengan palet warna hijau. Anda bisa menggunakan template ini untuk menyajikan berbagai informasi (daftar riwayat pendidikan, pengalaman kerja, keterampilan, dan hobi anda).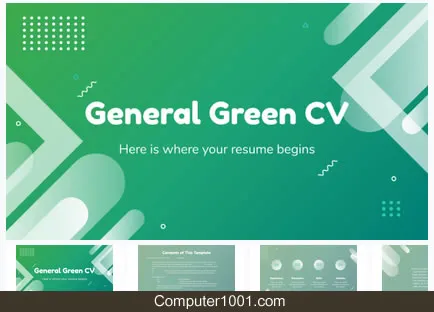 Walaupun diberi nama minimalis, template resume dengan 14 slide ini memiliki desain yang apik dengan corak warna abu-abu dan coklat. Font bergaya huruf mesin ketik memberi nuansa klasik dan formal.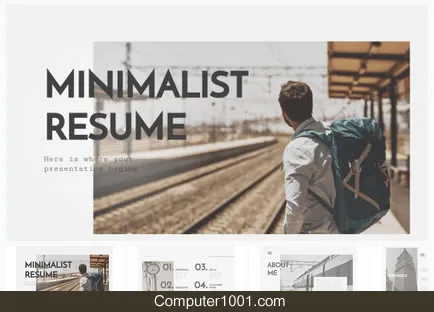 Template ini memiliki warna yang retro yang indah dan hiasan berbagai bentuk geometris (persegi, segitiga, dan lingkaran). Total 23 slide.
Template ini memiliki 27 slide dan dirancang khusus untuk anda yang berprofesi sebagai tenaga penjual (sales).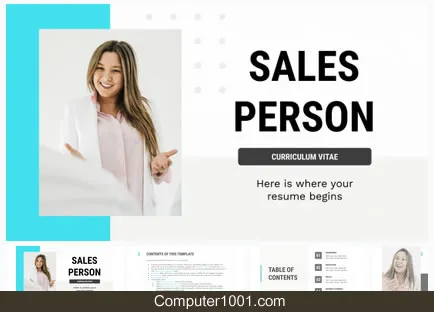 Template resume ini difokuskan untuk guru pendidikan dasar. Berisi 18 slide dengan desain warna yang kalem dan beberapa slide dirancang khusus untuk menaruh gambar ruang kelas, murid-murid, dan perlengkapan sekolah.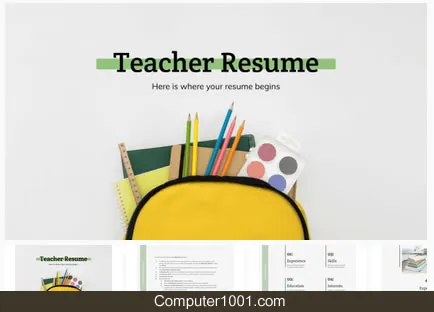 Tunjukkan keahlian, pengalaman, dan pengetahuan Anda tentang keperawatan pada template presentasi ini. Berisi 22 slide dengan kombinasi warna abu-abu, ungu, dan biru. Slide juga berisi ilustrasi gambar perawat yang memberi kesan sukacita.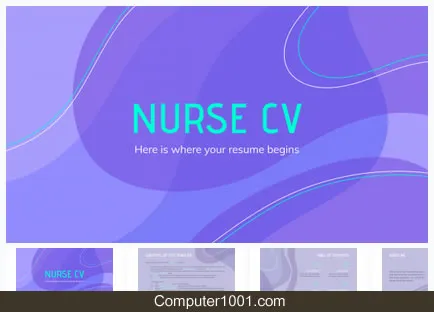 Template ini untuk anda yang berprofesi sebagai arsitek. Berisi 13 slide untuk menampilkan biodata dan berbagai gambar denah lantai, skema dan bangunan yang telah anda rancang.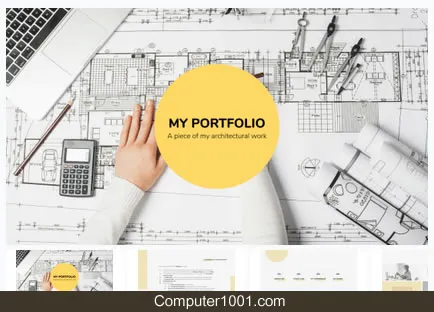 Sebelas slide untuk mempresentasikan portofolio Anda sebagai fotografer. Template dirancang dengan paduan warna abu-abu dan merah peach yang indah.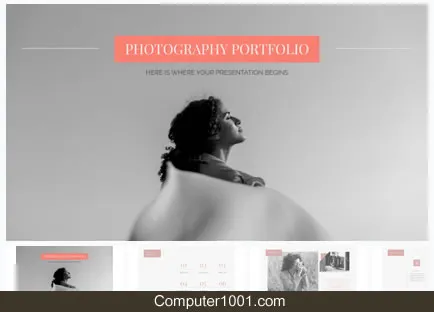 Template presentasi resume untuk IT engineer. Berisi 14 slide dengan hiasan papan sirkuit.