Fitur Flash Fill boleh dikatakan sangat "luar biasa" karena bisa menyederhanakan pekerjaan Excel yang rumit dan lama serta menggantikan rumus Excel.
Apa itu Flash Fill Excel?
Fitur ini ada di Excel versi 2013 ke atas (Excel 2016 & 2019) serta Office 365.
Flash Fill akan otomatis mengisi data pada sebuah kolom dengan mengidentifikasi pola data yang kita diberikan pada kolom yang sama.
Fitur ini sangat bagus untuk:
Memisahkan data ke beberapa kolom.
Menggabungkan data dari beberapa kolom menjadi 1 kolom. Baik data yang sederhana maupun yang kompleks (contoh alamat email).
Mengambil bagian data (misalnya: angka saja, huruf saja, atau beberapa karakter tertentu).
Mengganti sebagian isi data atau memberi tambahan pada data.
Mengubah format data (teks, angka, dan tanggal).
Merapikan data (penulisan huruf besar, huruf kecil, dan sebagainya)
Membersihkan data (menghapus spasi, tanda sambung, dan lain-lain).
Cara Menggunakan Flash Fill
Cara yang paling cepat menggunakan Flash Fill adalah dengan menekan tombol CTRL + E.
Flash Fill juga bisa diakses di:
Tab Data, grup Data tools.

Tab Home, grup Editing, klik tanda panah Fill dan pilih Flash Fill.

Berikut adalah langkah detil cara menggunakannya.
Misalnya kita mempunya data di kolom A seperti contoh gambar berikut. Kemudian kita ingin memisahkan huruf dan angka menjadi 2 kolom.

Langkah-langkah:
Buat contoh data yang kita inginkan untuk diidentifikasi Excel.
Caranya: klik sel kosong baris pertama pada kolom di sampingnya, yaitu sel B1. Ketik Usb dan tekan ENTER.
Catatan: huruf besar atau huruf kecil yang kita gunakan pada langkah ini akan diikuti oleh Flash Fill.
Sekarang sel aktif akan berpindah ke sel B2. Buat Flash Fill dengan menekan tombol CTRL + E.
Catatan: tidak masalah bila sel aktif ada di B1. Yang penting ada di kolom yang sama dan tidak keluar dari baris data.
Ulangi langkah-langkah di atas untuk kolom C.
Catatan: kita juga bisa mengetik semua data di sel B1 dan C1 terlebih dahulu, baru kemudian membuat Flash Fill.

Tips:
Tekan tombol CTRL + Z bila hasilnya tidak seperti yang diinginkan.
Kadang heading (judul) kolom juga dimasukkan dalam Flash Fill. Hapus saja bila muncul heading baru.
Bila ada pesan error, lihat solusinya di sini.
Contoh-Contoh Flash Fill
Berikut adalah contoh-contoh yang menunjukkan kemampuan Flash Fill. Namun tidak terbatas pada contoh ini saja. Masih ada banyak lagi kegunaan Flash Fill yang bisa anda coba sendiri.
1. Memisahkan Data
Contoh 1: memisahkan nama menjadi 2 kolom, yaitu nama depan dan nama belakang.
Contoh 2: memisahkan nama email dan domain.
Contoh 3: memisahkan tanggal dan jam.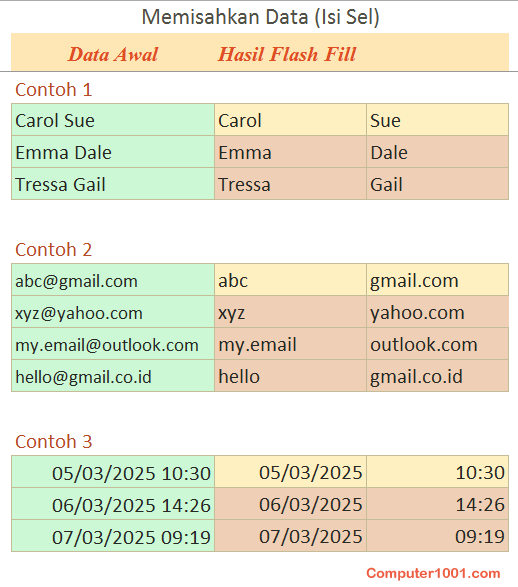 Formula atau Fitur lain untuk memisahkan data:
2. Mengambil Bagian Data
Contoh 1: mengambil kode pos yang berada di tengah data.
Contoh 2: mengambil semua huruf awal sebelum angka pada sebuah kode.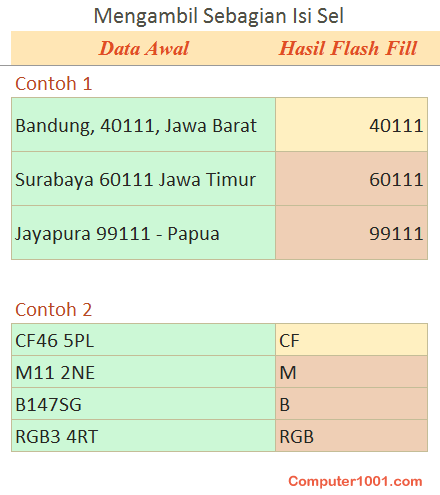 Formula atau Fitur lain untuk mengambil bagian data:
3. Menggabungkan Kolom Data
Contoh menggabungkan dua kolom data menjadi satu. Perhatikan, kita juga bisa memberi tambahan karakter (contoh: simbol @ untuk email) walaupun di data aslinya tidak ada.

Formula atau Fitur lain untuk menggabungkan data:
4. Menghapus Spasi dan Karakter Lain
Contoh 1: menghapus spasi di awal dan akhir kata.
Contoh 2: menghapus simbol * # : [ di awal data.
Contoh 3: menghapus spasi di antara angka. Ini cocok untuk anda yang ingin menghapus spasi pada kode billing, nomor hp / wa, nomor kartu, dan lain-lain.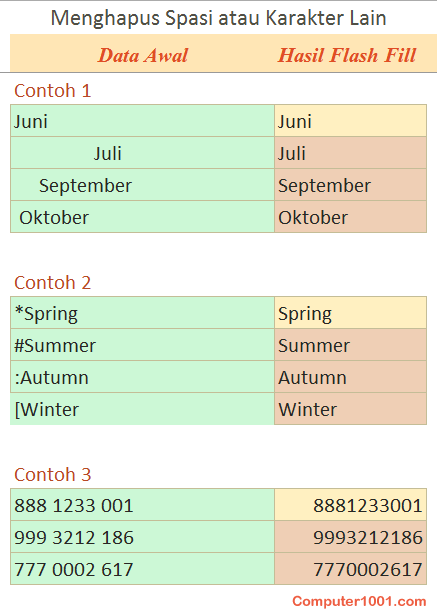 Formula atau Fitur untuk menghapus spasi dan karakter lain:
5. Merubah atau Modifikasi Data
Contoh 1: merubah huruf abc menjadi huruf besar ABC dan menambahkan angka 12345.
Contoh 2: menambahkan tanda sambung (-) dan merubah angka 12345 menjadi xxxxx.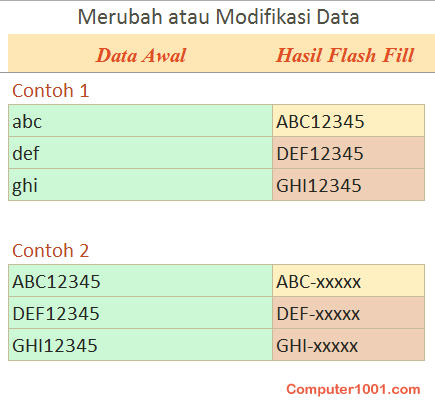 Formula atau Fitur untuk merubah sebagian data:
6. Format Tanggal
Contoh mengganti angka bulan menjadi huruf dan mengganti garis miring menjadi spasi.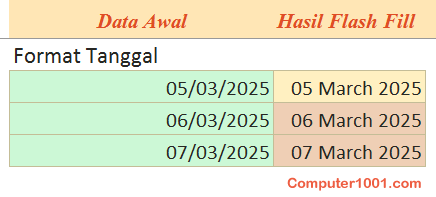 7. Format Angka
Contoh 1: memisahkan angka dengan tanda sambung (-).
Contoh 2: memisahkan angka dengan spasi.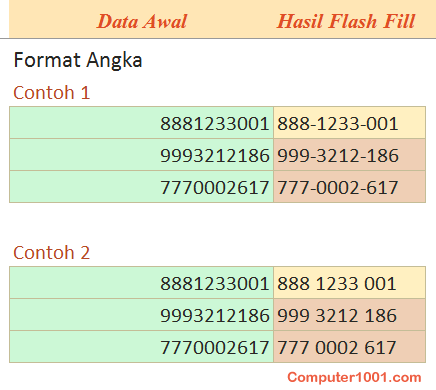 8. Format Teks
Contoh 1: merubah nama pertama menjadi singkatan dan diberi tanda titik.
Contoh 2: memberi huruf besar pada setiap awal kata (nama).
Contoh 3: memindahkan nama belakang ke posisi awal dan diberi tanda koma.
Contoh 4: membuat singkatan nama.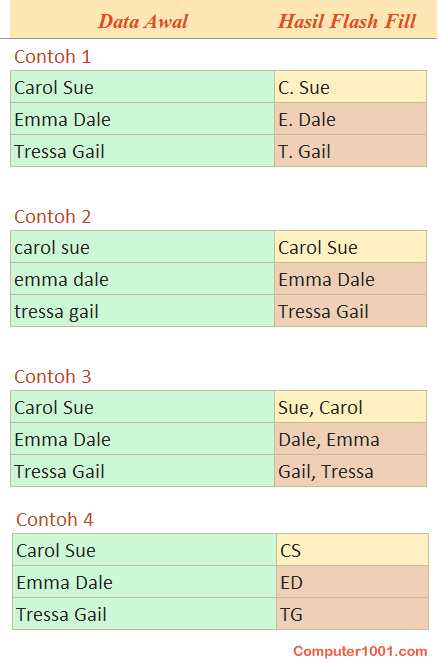 Formula atau Fitur untuk format data:
Keterbatasan Flash Fill
Fitur ini juga memiliki keterbatasannya, yaitu:
Hasil Flash Fill tidak ter-update secara otomatis (statis).
Jadi bila ada perubahan pada data asli, maka anda perlu ulang melakukan Flash Fill.
Ada kemungkinan tidak bisa membaca pola data.
Ini biasanya terjadi pada data yang format atau urutannya berbeda. Contohnya seperti gambar berikut.

Mengubah angka atau tanggal menjadi string.
Hal ini mengakibatkan data tidak bisa dikalkulasi. Bila anda ingin memberi tanda sambung dan sebagainya pada angka / tanggal yang ingin dikalkulasi, maka gunakan Custom Format.
Solusi Masalah Flash Fill
Masalah 1: Cek Apakah Fitur Flash Fill Sudah Diaktifkan
Biasanya fitur ini sudah diaktifkan secara default. Namun bila anda tidak bisa menggunakannya, maka lakukan hal berikut:
Di tab File dan pilih Options.
Pilih panel Advanced.
Di bagian Editing options, pastikan kotak Automatically Flash Fill dicentang.

Masalah 2: Muncul Pesan Error
"We looked at all the data next to your selection and didn't see a pattern for filling in values for you. To use Flash Fill, enter a couple of examples …".

Error ini bisa disebabkan:
Excel belum bisa membaca pola data. Untuk itu beri contoh lagi (misalnya 2 baris data).
Pesan error juga bisa muncul bila kita memilih kumpulan sel yang ingin diisi data. Jadi cukup klik di satu sel saja.
Kadang format heading (judul kolom) seperti Merge & Center bisa membuat Flash Fill tidak bisa digunakan. Solusinya bisa dengan memindahkan data asli ke kolom lain atau ke lembar kerja yang baru.
Masalah 3: Hasil Tidak Sesuai
Tidak boleh ada kolom kosong antara data asli dengan data untuk Flash Fill seperti contoh gambar berikut.