Di 9 situs berikut, kita bisa download gratis video footage kualitas tinggi (HD / 4K) tanpa harus registrasi terlebih dahulu.
Saat ada proyek video, baik itu presentasi, situs web, postingan di sosmed, bahan ajar, atau tugas sekolah dan pekerjaan; Anda mungkin akan bertanya-tanya dimana bisa mendapatkan cuplikan rekaman video yang bagus, yang sinematik (terasa seperti film), dan pengambilannya profesional, tidak terkesan asal-asalan?
Ini yang saya alami saat membuat tutorial video PowerPoint:
Ternyata ada banyak situs yang memberikan ribuan video stock / video footage gratis, baik untuk penggunaan pribadi ataupun komersial. Tentu saja ini sangat membantu dalam menghemat waktu dan biaya, apalagi untuk footage yang lokasinya tidak bisa kita datangi sendiri.
Namun meskipun gratis, videonya memiliki resolusi tinggi dengan konten visual yang menakjubkan dan ada banyak temanya. Cek saja langsung pada situs-situs di bawah ini.
Situs ini memiliki koleksi video dengan topik-topik terbaru yang sedang tren. Juga ada video untuk Zoom Virtual Backgrounds dan video vertikal dengan aspect ratio 9:16 untuk penggunaan di perangkat seluler.
Tidak wajib atribusi.

Mazwai menyediakan video footage bergaya sinematik berkualitas tinggi, yang dapat digunakan dalam berbagai proyek kreatif.
Ada 2 lisensi penggunaan: Creative Commons 3.0 (wajib atribusi) and the Mazwai License (tidak wajib atribusi).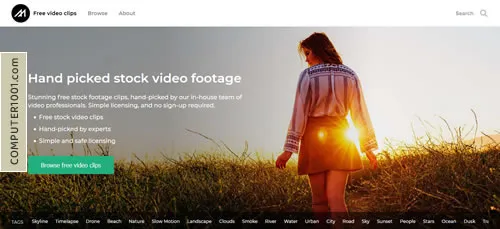 Selain memiliki video footage kualitas tinggi, situs ini juga memberikan gratis musik latar untuk podcast dan iklan online; serta template Premiere Pro untuk ditambahkan ke video YouTube, presentasi atau video musik.
Juga ada Vertical Video untuk ditaruh di Instagram dan Facebook Story, IGTV, Snapchat, dan lain-lain; serta Zoom Virtual Backgrounds.
Tidak perlu atribusi. Penggunaan pribadi dan komersial memiliki lisensi yang berbeda. Silakan baca di situsnya.

Dari judulnya kita akan tahu tentang isi video. Ada preview-nya saat kita menaruh pointer di atas video, sehingga tidak perlu klik video satu per satu untuk melihatnya.
Situs ini juga memiliki video vertikal.
Tidak perlu atribusi.

Situs ini memiliki video 4K dan HD. Ada keterangannya di bawah thumbnail video sehingga mempermudah kita untuk memilihnya.
Tidak perlu atribusi.
Klik Discover more pada homepage atau lakukan search untuk memilih:
Resolusi video: HD (1080p) atau 4K (2160p).
Effects: Animation, Slow Motion, Time Lapse.
Category: antara lain Education, Emotions, Food/Drink, dan lain-lain.
Pixabay juga memiliki koleksi foto kualitas HD. Lihat di sini: 8 Situs untuk Download Gratis Foto Berkualitas Tinggi.
Situs ini memiliki video 4K dan HD. Untuk yang gratisan, pilih yang tidak ada tulisan PRO. Perlu atribusi, dengan menuliskan Videezy.com dalam proyek kita.
Bisa mencari video berdasarkan kategori. Antara lain: Slow Motion, Urban, Abstract, Aerial, dan juga ada template After Effects; yang masing-masing terbagi lagi ke kategori yang lebih detil.
Kita juga bisa mendapatkan video animasi motion graphics gratis.

Menurut keterangan di situsnya ada 15.000 lebih video gratisan. Juga memiliki 3.000+ klip motion graphics.
Di bagian homepage tidak jelas mana video yang gratis dan berbayar. Tapi bila kita mengklik link Collections dan memilih lagi kategorinya, maka ada keterangan Free pada video gratisan.
Masing-masing video memiliki lisensi yang berbeda. Ada yang tidak perlu atribusi dan juga ada yang harus mencantumkan nama pembuatnya. Bisa dilihat pada halaman download.

Distill memiliki koleksi video yang indah, dipilih dengan cermat, dengan kualitas tinggi (HD), dan gratis untuk digunakan secara komersial dan pribadi.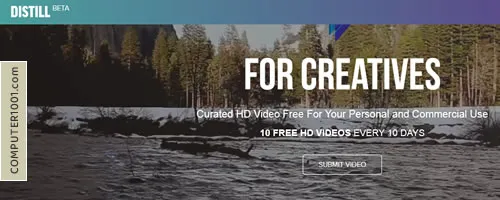 Situs ini memiliki resolusi video mulai dari SD 240p sampai dengan HD 2160p.
Cara download: arahkan kursor ke atas video dan klik tulisan Download yang berada di kanan bawah. Kemudian pilih resolusi video yang ingin di-download.