Berbagai masalah atau error bisa terjadi saat kita membuat mail merge yang mengambil data dari Excel.
Bisa karena beda versi Microsoft Office, instalasi yang tidak lengkap, atau karena keterbatasan pada Microsoft Word.
Satu solusi bisa mengatasi beberapa masalah. Oleh karena itu, disarankan untuk membaca semua solusi dalam artikel ini.
Masalah 1: Data Source Excel Tidak Bisa Dibuka
Ini adalah masalah yang sering dialami saat membuat mail merge dari data Excel dan kita tidak tahu penyebabnya ada di mana.
Solusi 1: copy data pada lembar kerja tersebut ke file Excel yang baru dan gunakan data source yang baru ini.
Solusi 2: simpan (Save As) file Excel dalam format CSV. Biasanya dengan cara ini akan menyelesaikan banyak masalah saat koneksi data source Excel.
Bila solusi-solusi di atas masih belum bisa menyelesaikan masalah mail merge Anda, maka lihat solusi untuk masalah 2 berikut ini.
Masalah 2: Tidak Bisa Koneksi atau Membuat Data Mail Merge
Masalah yang timbul:
Tidak bisa membuat data untuk mail merge menggunakan "Type a New List" atau mengambil data dengan "Use an Existing Source".
Saat akses data Excel, muncul pesan error "An operation cannot be completed because of database engine errors".
Solusi: lakukan Repair atau install ulang Microsoft Office.
Lakukan Repair terlebih dahulu. Bila tidak berhasil, baru install ulang.
Microsoft Office memiliki 2 versi, yaitu 64 bit (x64) dan 32 bit (x86).
Kadang error bisa muncul saat menggunakan 64 bit dan masalah bisa diatasi setelah meng-install versi 32 bit.
Sebelum install ulang, coba gunakan komputer lain dulu untuk membuat mail merge.
Dengan begitu, Anda bisa memastikan kalau masalahnya ada di komputer tersebut.
Masalah 3: Select Table Lembar Kerja Excel Kosong
Anda mungkin familiar dengan masalah ini.
Saat melakukan langkah-langkah untuk menghubungkan data mail merge, di kotak dialog Select table, isi tabelnya tidak muncul, alias kosong.
Sehingga tidak bisa dipilih sama sekali.
Contohnya seperti gambar ini.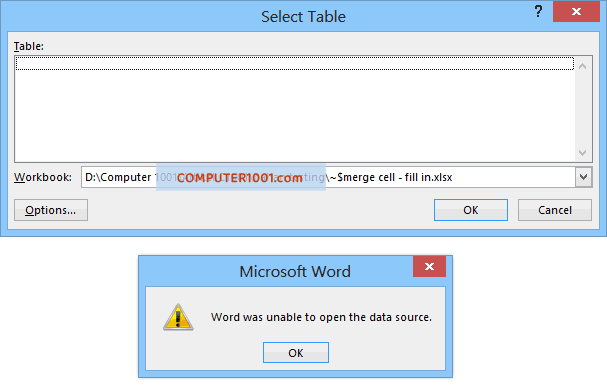 Bukan hanya itu, nama workbook atau file Excel-nya juga salah.
Yang dipilih bukanlah file "merge cell – fill in.xlsx" seperti pada tangkapan layar di atas. Word secara acak menggambil file yang lain.
Bila kita lanjut dengan mengklik OK, akan muncul pesan error "Word was unable to open the data source".
Error ini biasanya terjadi pada koneksi Excel Files via ODBC (*.xls,xlsx,xlsm,xlsb).
Solusi 1: pilih koneksi MS Excel Worksheets via DDE (*.xls) atau gunakan switch.
Link tutorialnya ada di solusi Masalah 4 di bawah ini.
Bila tidak berhasil juga, maka coba Solusi 2 berikut.
Solusi 2: lakukan Repair pada instalasi Microsoft Office.
Setelah melakukan Repair, Restart komputer Anda.
Masalah 4: Format Angka, Persentase, dan Tanggal Berubah
Saat ditampilkan di dokumen Word muncul masalah dimana pemisah angka ribuan dan desimal, simbol mata uang, serta format tanggal dan persentase hilang atau berubah.
Solusi 1: gunakan metode DDE untuk koneksi ke data Excel.
Baca tutorialnya di: Menampilkan Format Angka Excel di Mail Merge dengan Metode DDE.
Catatan: cara ini hanya untuk Word 2007, 2010, dan 2013 saja.
Metode DDE sering error bila dipakai di Word 2016 dan versi di atasnya; atau tidak bisa dipakai sama sekali.
Untuk pemakai Word 2016 dan versi di atasnya (2019, 2021), bisa menggunakan solusi 2 di bawah ini.
Solusi 2: gunakan switch.
Switch adalah kode khusus yang ditambahkan pada kode field untuk membuat format tertentu pada hasil mail merge di Microsoft Word.
Baca tutorialnya di: Format Teks dan Angka Data Mail Merge dengan Switch.
Masalah 5: Data Mail Merge dari Beberapa Lembar Kerja Excel
Apakah kita bisa mengambil data mail merge yang berasal dari beberapa lembar kerja Excel?
Jawabannya adalah TIDAK BISA.
Solusi: gabungkan data tersebut ke dalam 1 lembar kerja Excel. Dan lembar kerja tersebut harus berada di posisi pertama.
Masalah 6: Data Excel Tidak Memiliki Header
Bila data Excel tidak memiliki header atau judul, maka Word akan menjadikan data baris pertama sebagai judul kolom.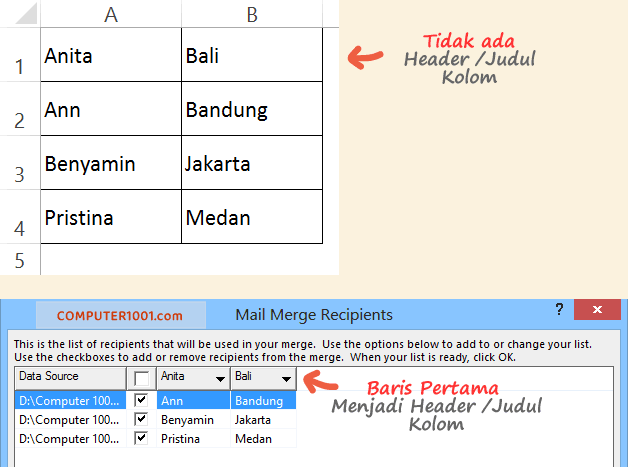 Akibatnya, data baris pertama tidak muncul di mail merge. Hanya ada data baris kedua dan seterusnya.
Solusi: Word memerlukan sesuatu sebagai judul kolom. Untuk itu, buat baris baru sebagai judul (header) data Excel.
Masalah 7: Header Data Excel Tidak Berada di Baris Pertama
Judul atau header data Excel untuk mail merge sebaiknya berada di baris pertama.
Namun, kadang karena alasan tertentu, header data Excel tidak berada di baris pertama.
Seperti contoh gambar berikut, header ada di baris ketiga.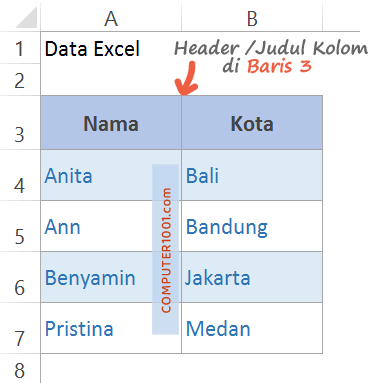 Kita tetap bisa membuat mail merge yang menggunakan data ini dengan solusi berikut.
Solusi: beri nama pada range data Excel.
Caranya:
Pilih kumpulan sel data untuk mail merge. Contoh gambar di atas: sel A3:B7.
Kemudian klik kanan dan pilih Define Name.
Di kotak Name, beri nama dan tekan OK. Biar mudah diingat, tutorial ini memberi nama "HeaderBaris3".
Simpan file Excel ini.
Buka dokumen Word dan buat mail merge.
Hubungkan ke sumber data Excel. Di kotak dialog Named or cell range, pilih nama range yang kita buat pada langkah 3 di atas, yaitu HeaderBaris3.
Tekan OK. Maka Word akan menjadikan baris 3 Excel menjadi judul. Anda bisa mengeceknya pada menu Insert Merge Field.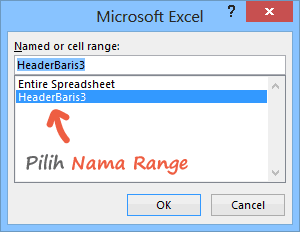 Masalah 8: Data Excel Terlalu Panjang
Data Excel yang panjang akan membuat hasilnya di Word turun ke baris berikutnya.
Hal ini tidak bagus untuk yang ukuran kertasnya terbatas, seperti pada amplop atau kartu undangan.
Solusi: buat ukuran font berubah sehingga data yang panjang akan otomatis mengecil ukuran font-nya.
Baca tutorialnya di: Cara Membuat Ukuran Font yang Berbeda di Mail Merge.
Masalah 9: Mail Merge Tidak Menampilkan Data Excel Secara Lengkap
Misalnya, pada 8 baris pertama Excel memiliki data yang pendek atau terdiri dari beberapa karakter saja.
Kemudian di baris 9, datanya berupa teks yang panjang, lebih dari 255 karakter.
Hasilnya, data Excel baris 9 tersebut akan terpotong tampilannya di mail merge Word.
Solusi 1: di baris pertama, buat data dummy yang berisi lebih dari 255 karakter. Atau pindahkan data pada baris 9 ke baris pertama.
Solusi 2: gunakan metode DDE untuk koneksi ke data Excel.
Hal ini terjadi karena server OLEDB akan menentukan tipe data dengan menggunakan data 8 baris pertama. Sedangkan metode DDE akan menganggap semua data sebagai teks dan bisa menampilkan lebih dari 255 karakter.
Link tutorial menggunakan DDE ada di solusi Masalah 4 di atas.
Masalah 10: Sebagian Kolom Excel Tidak Muncul atau Tidak Terbaca
Mail merge Word hanya menampilkan data dari sebagian kolom saja.
Contoh, kolom di Excel sampai dengan kolom MX, sedangkan di Word yang terbaca sampai kolom IV saja (kolom ke-256).
Solusi: simpan (Save As) file Excel ke format CSV dan ambil data mail merge dari format CSV ini.

Masalah 11: Data Mail Merge Berubah Menjadi 0 (Nol)
Saat membuat mail merge dengan menggunakan data Excel, hasil yang muncul di Word malah angka 0 (nol).
Kadang bisa juga seperti ini, data yang sama pada 2 kolom Excel yang berbeda. Kolom pertama tidak bermasalah, tapi data dari kolom kedua yang error.
Biasanya, masalah nilai nol ini bisa diselesaikan dengan menggunakan trik berikut.
Solusi: saat akan membuat mail merge, tutup terlebih dahulu file Excel yang menjadi sumber data.
Kesimpulan
Postingan ini khusus membahas masalah yang terjadi pada mail merge saat menggunakan data dari Excel.
Mail merge merupakan fitur untuk membuat berbagai dokumen dalam jumlah banyak, seperti untuk membuat surat masal, label, undangan, amplop, dan sertifikat.
Mail merge dengan data di Excel memiliki banyak kegunaannya. Antara lain:  kemudahan menambah data baru, membaca dan mengedit data, serta menyalin data dari sumber lain.
Bukan hanya di Word, kita juga bisa membuat mail merge di PowerPoint.
Semoga kumpulan solusi di atas bisa membantu menyelesaikan kendala yang Anda alami.
Bila belum, maka silakan sampaikan di kotak komentar. Jangan lupa untuk menulis pesan error yang muncul (bila ada) dan versi MS. Word yang digunakan.