Gunakan petunjuk berikut untuk membuat nomor halaman berurutan di Excel saat print semua lembar kerja.
Misalnya, di lembar kerja pertama (Sheet 1) ada 3 halaman dan lembar kerja dua (Sheet 2) ada 2 halaman.
Kemudian kita ingin print semua halaman pada lembar kerja yang berbeda tersebut.
Dimana Sheet 1 memiliki nomor urut 1 – 3. Dan halaman pertama Sheet 2 dimulai dengan nomor 4.
Berikut cara membuatnya.
Print Nomor Halaman Berurutan Worksheet Excel
Tutoral ini untuk: Excel 2007, 2010, 2013, 2016, 2019, 2021, 365.
Pengaturannya sangat mudah. Cukup  2 langkah saja.
Langkah 1: Buat Nomor Halaman
Catatan: lewatkan langkah ini bila Anda sudah membuat nomor halaman.
Bila belum, buat nomor halaman pada setiap lembar kerja, yaitu di Sheet 1 dan Sheet 2.
Tutorial ini menggunakan gaya penomoran Page 1 of 5.
Bila ingin mengikuti format ini, maka:
Pada View | Page Layout, klik header tengah dan ketik Page.
Lanjutkan membuat nomor halaman otomatis dengan mengklik Page Number yang terletak di tab Header & Footer Elements.
Ketik tulisan of. Kemudian klik Number of Pages untuk memasukkan total lembar halaman Excel.
Saat kita melakukan Print Preview (CTRL + P), maka tampilan pada:
Sheet 1: nomor halaman Page 1 of 3 dan seterusnya.
Sheet 2: nomor halaman Page 1 of 2 dan seterusnya.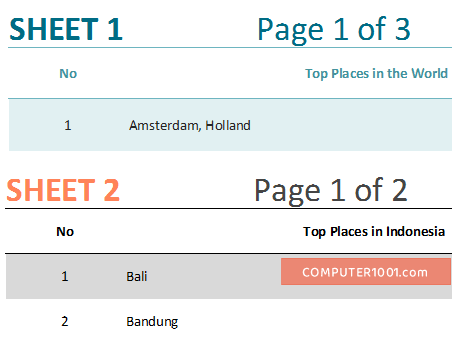 Tutorial lengkap membuat nomor halaman otomatis bisa dibaca di
Cara Membuat Header dan Footer Excel
.
Dalam tutorial tersebut juga dibahas pengaturan isi halaman pertama dan halaman ganjil genap yang berbeda.
Langkah 2: Pilih Multi Sheet dan Print
Pada langkah ini, kita akan menggrupkan semua lembar kerja tersebut sehingga nomor halaman akan menjadi berurutan.
Pilih semua lembar kerja yang akan dicetak dengan cara: sambil menekan tombol SHIFT, klik Sheet 1 dan Sheet 2.
Lakukan Print Preview.
Sekarang total halaman sudah berubah menjadi 5 (Page 1 of 5 dan seterusnya). No urut halaman pertama Sheet 2 juga sudah berubah menjadi no 4.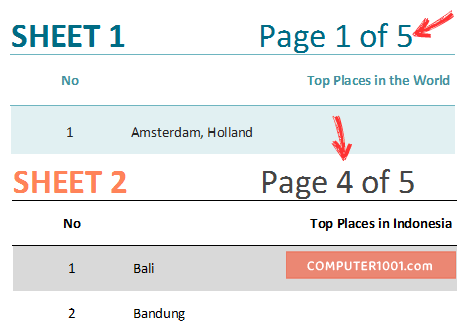 Lanjutkan dengan mencetak kelima halaman tersebut. Cukup dengan menekan tombol Print saja.
Catatan: untuk menghilangkan penggrupan, klik kanan salah satu lembar kerja dan pilih Ungroup Sheets.
Solusi Masalah Nomor Berurut Halaman Excel
Anda mungkin mendapatkan masalah atau ingin membuat pengaturan yang lain lagi.
Berikut adalah solusi masalah dan beberapa hal penting yang perlu diketahui.
Bila belum dibahas di sini, silakan tuliskan di kotak komentar.
Masalah 1: Nomor Halaman Multi Sheet Tidak Berurutan
Solusi: saat print, pastikan untuk memilih semua lembar kerja yang ingin diberi nomor halaman berurutan.
Baca berbagai trik memilih lembar kerja di Cara Print Beberapa Lembar Kerja Sekaligus.
Masalah 2: Nomor Halaman Sheet 2 Mulai dari 1
Bila ingin halaman pertama Sheet 2 dimulai dari nomor 1, maka Anda harus memilih dan print lembar kerja 2 saja.
Bila ingin Sheet 2 dimulai dari nomor lain, misalnya 6, maka gunakan Cara Mengatur Angka Pertama Nomor Halaman Excel.
Masalah 3: Format Font dan Warna Nomor Halaman
Format nomor seperti warna dan ukuran font akan mengikuti pengaturan pada masing-masing lembar kerja.
Jadi beda lembar kerja, bisa beda tampilan.
Seperti contoh gambar ini, nomor halaman Sheet 1 berwarna biru, sedangkan warna nomor pada Sheet 2 berwarna abu-abu.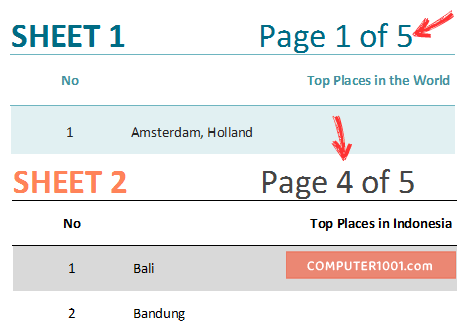 Masalah 4: Judul Tabel Berulang
Selain membuat membuat no urut halaman saat print mult sheet, Anda mungkin juga ingin menampilkan baris judul tabel pada setiap halaman.
Perlu diketahui bahwa baris judul tabel berulang tidak bisa diatur sekaligus pada multi sheet (saat lembar kerja sedang digrupkan).
Harus diatur terlebih dahulu pada masing-masing lembar kerja.
Baru dilanjutkan ke Langkah 2 di atas untuk memilih semua lembar kerja tersebut.
Kesimpulan
Print lembar kerja Excel sekaligus dengan nomor yang berurutan sangat menghemat waktu kita.
Bukan hanya untuk print saja, kita juga bisa mengisi atau mengedit data secara sekaligus pada semua lembar Excel.
Petunjuknya ada di Cara Input dan Format Data Sekaligus di Beberapa Lembar Kerja Excel.