Gunakan cara berikut untuk mengunci Header dan Footer Word, agar diisinya tidak bisa diedit atau diubah.

Ada dokumen Word tertentu yang dijadikan template untuk digunakan berulang kali. Misalnya kop surat yang berisi nama, alamat, logo, nomor telepon, dan lain-lain.
Agar isi header footer dokumen ini tidak bisa diutak-atik atau diubah sembarangan, maka kita bisa menguncinya.
Sehingga hanya yang mengetahui password-nya saja yang bisa mengedit isi header footer.
Cara Mengunci Header Footer di Word
Berikut cara membuatnya yang terbagi dalam 2 tahap.
Tahap 1. Membuat Header Footer Word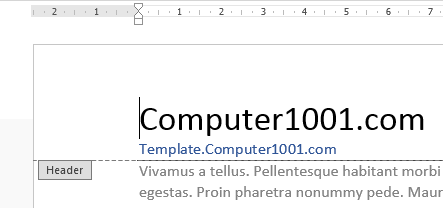 Lewati langkah ini bila Anda sudah membuat header atau footer. Bila belum, maka buat semua isi header footer untuk dokumen Word Anda.
Setelah selesai, tutup header footer untuk kembali ke halaman dokumen.
Tahap 2. Membuat Proteksi pada Header Footer Word
Pada tahap ini, kita akan mulai mengunci header dan footer Word.
Pada File, tab Info, klik Protect Document dan pilih Restrict Editing. Sekarang di sebelah kanan layar akan muncul panel Restrict Editing.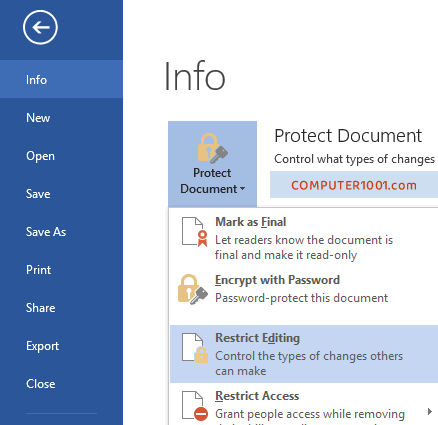 Di bagian 2. Editing restrictions, centang kotak Allow only this type of editing in the document.
Biarkan pilihan kotak di bawahnya adalah No changes (Read only).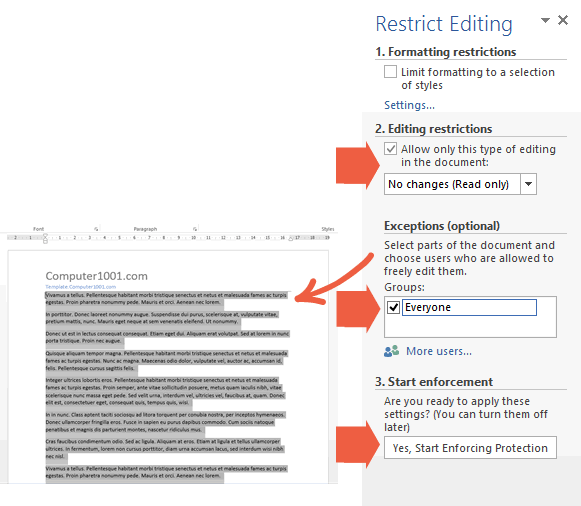 Selanjutnya kita akan membuat pengecualian, sehingga bagian lain pada dokumen bisa diedit (kecuali header dan footer).
Pilih paragraf atau bagian dokumen yang boleh diedit (lihat contoh gambar di atas).
Selanjutnya di bagian Exceptions, centang kotak Everyone. Dengan demikian, bagian yang di-highlight tersebut bisa diedit oleh siapa saja.
Di bagian 3. Start Enforcement, klik tombol Yes, Start Enforcing Protection.
Pada kotak dialog Start Enforcing Protection, masukkan password dan konfirmasi sekali lagi, akhiri dengan mengklik OK.
Panel Restrict Editing sekarang akan berisi Your Permissions yang terdiri dari 4 hal berikut:
Find Next Region I Can Edit – untuk mencari bagian yang bisa diedit.
Show All Regions I Can Edit – untuk menampilkan semua bagian yang bisa diedit.
Highlight the regions I can edit – untuk menandai bagian yang bisa diedit dengan memberinya warna kuning.
Stop Protection – untuk menghapus proteksi dokumen.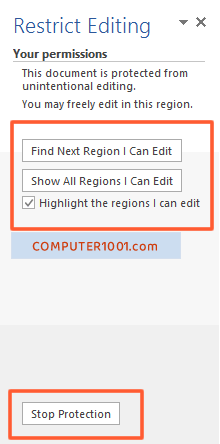 Bagian dokumen yang kita tandai sebelumnya akan memiliki highlight warna kuning dan berada dalam tanda kurung [], yang berarti bagian tersebut bisa diedit.
Untuk menghilangkan highlight, kosongkan kotak Highlight the regions I can edit.
Sedangkan bagian header dan footer, walaupun bisa dibuka, tapi tidak bisa diedit. Namun, bila ada nomor halaman, maka nomornya tetap akan bertambah bila ada penambahan isi dokumen.
Baca di sini: Cara Menyisipkan Nomor dan Judul Bab di Header Footer Word
Cara Membuka Proteksi Header Footer Word
Bila Anda berubah pikiran dan tidak ingin mengunci header footer Word atau masih perlu mengedit isi header footer, maka ikuti langkah-langkah berikut untuk menghilangkan proteksi.
Pada panel Restrict Editing, klik tombol Stop Protection.
Pada kotak dialog Unprotect Document, masukkan password dan klik OK.
Selesai. Jangan lupa menyimpan dokumen Word Anda.