Semua template kalender Excel ini memiliki built-in fungsi yang memungkinkan kita untuk mengatur tahun kalender. Sehingga kita bisa menggunakan kumpulan template ini untuk membuat kalender tahun kapan saja.
Anda bisa memilih menggunakan template yang tampilannya warna-warni atau yang minimalis, semua bulan dicetak dalam satu lembar kertas atau cetak setiap bulan pada masing-masing kertas (12 halaman).
Selamat mengoleksi.
Template Kalender Excel
Catatan:
Semua template kalender bisa digunakan di semua versi Excel.
Pilih Yes, saat muncul pertanyaan "Do you want to recover the contents of this workbook?", bila ingin membuka template kalender di Microsoft Excel 2007.
Ubah warna pada kalender dengan mengaturnya di galeri Themes dan Colors.
Template kalender tahunan warna-warni yang juga memiliki hiasan beruang kecil dari seri Rainbow Bears.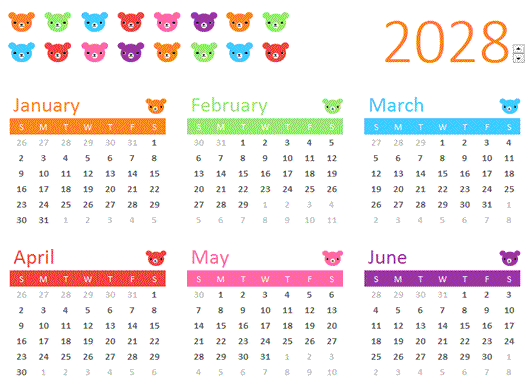 Template kalender ini memiliki tab terpisah untuk setiap bulan dengan awal minggu dimulai pada hari Senin. Template memiliki ruang pada setiap tab untuk membuat jadwal mingguan sekolah atau perkuliahan.
Pada bagian ASSIGNMENTS, kita bisa menulis tanggal pada kolom L dan keterangan pada kolom M untuk tugas atau aktivitas kita.
Berdasarkan data yang kita buat, tanggal jatuh tempo tugas atau aktivitas pada kalender akan ditandai secara otomatis dengan menggunakan conditional formatting.
Walau template ini ditujukan untuk siswa, kita juga bisa menggunakannya untuk mencatat aktivitas kerja atau kegiatan pada organisasi dan perusahaan.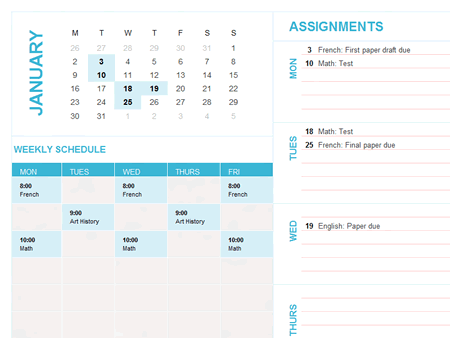 Template kalender yang memiliki fitur untuk menyisipkan hari libur. Kita bisa mencetak kalender per bulan atau satu tahun dalam 1 halaman.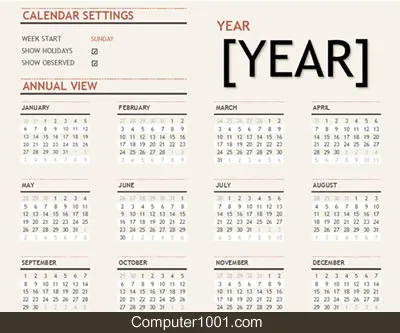 Template kalender dengan hiasan bunga warna-warni. Kita bisa mengganti warna di galeri Themes dan Colors.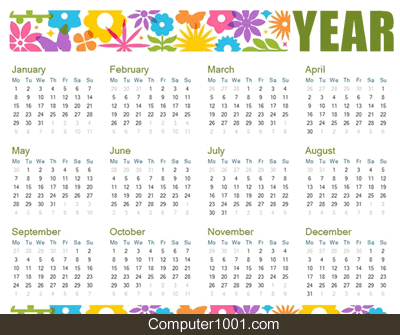 Template kalender berwarna gelap. Pada setiap tanggal bisa ditambahkan catatan untuk reminder.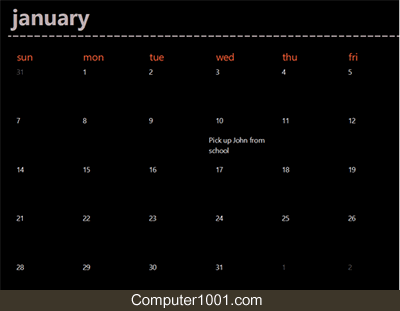 Template kalender dengan layout bulan ditampilkan per baris (horizontal).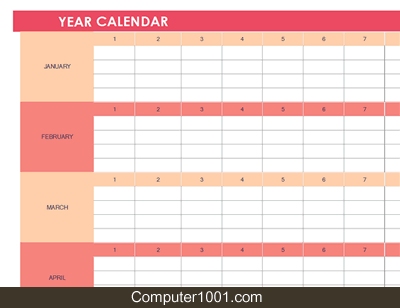 Pada template kalender ini, kita bisa memilih tahun dari 1900 sampai dengan 9999.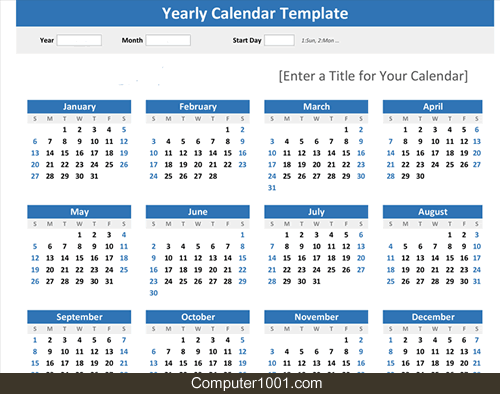 Kalender dengan semua bulan (Januari – Desember) dalam 1 halaman dalam bentuk kolom (vertikal).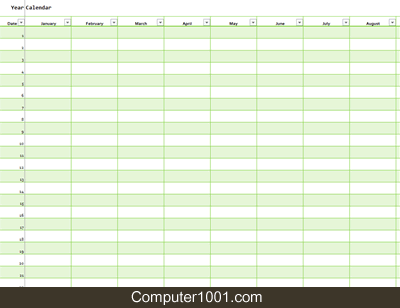 Kalender 1 bulan per halaman. Pada setiap halaman kalender bisa ditaruh foto, logo, info kontak dan catatan lainnya.