Pada postingan ini, Computer 1001 menyajikan cara-cara mudah membuat gambar tanda tangan digital untuk ditaruh di dokumen Word, Excel, Google Docs, PDF, dan email Outlook; serta tanda tangan langsung pada dokumen.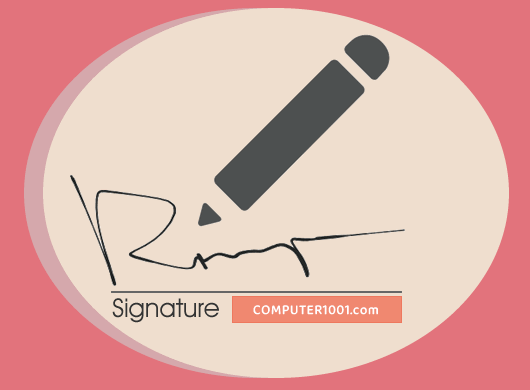 Tanda tangan digital sekarang banyak digunakan untuk menandatangani berbagai dokumen atau formulir.
Ada 3 metode yang bisa digunakan, baik dengan aplikasi Microsoft Office (seperti Word), aplikasi Android, atau menggunakan website tanda tangan online.
Silakan scroll ke bawah untuk membaca panduannya atau klik link pada daftar isi.
Metode 1: Menggunakan Tool di Microsoft Office
Ada 2 cara yang bisa digunakan untuk membuat tanda tangan digital. Bisa untuk pengguna perangkat komputer dengan layar sentuh (touch screen) maupun layar biasa (non touch screen).
Catatan: tutorial ini menggunakan contoh di Microsoft Word, namun juga bisa diterapkan di Excel, Outlook, dan PowerPoint.
Cara 1: Menggunakan Ink Tools Pen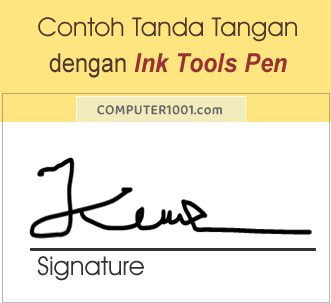 Ink Tools Pen merupakan cara yang paling mudah untuk membuat tanda tangan. Tool yang berupa tinta pena ini memang ditujukan untuk membuat berbagai coretan tangan.
Bila Anda menggunakan komputer dengan layar sentuh (touch screen) atau pen stylus, lihat tutorialnya di: Cara Menggunakan Ink Tools Pens untuk Menulis dan Menggambar.
Apabila layar komputer Anda bukan layar sentuh, Anda masih tetap bisa menggunakan fitur ini untuk membuat tanda tangan dengan menggunakan mouse. Petunjuknya ada di sini: Solusi Tab Pens yang Berwarna Abu-Abu (Disabled).
Setelah selesai dibuat, lakukan hal berikut agar gambar tanda tangan bisa dipindahkan dengan mudah pada halaman Word:
Klik kanan gambar tanda tangan tersebut.
Klik Wrap Text dan pilih posisi Top and Bottom. Pilih juga Move with Text, agar tanda tangan ini berpindah posisinya saat ada penambahan atau penghapusan teks dalam halaman dokumen.
Cara 2: Menggunakan Insert Shapes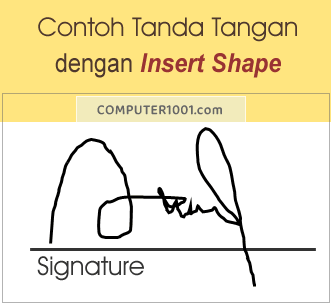 Cara ini mudah digunakan bila memakai layar sentuh (touch screen) atau pen stylus. Sedangkan bila menggunakan mouse, kemungkinan hasilnya tidak sebagus Cara 1 yang menggunakan Ink Tools Pen.
Ikuti cara berikut bila Anda ingin menggunakannya.
Pada tab Insert, grup Illustrations, klik Shapes.
Di bagian Lines, pilih bentuk Scribble.
Buat tanda tangan di posisi yang diinginkan dalam dokumen.
Untuk mengubah warna dan ketebalan goresan, klik pada shape tanda tangan tersebut untuk memunculkan tab Drawing Tools | Format. Kemudian pada Shape Styles, klik tanda panah di Shape Outline untuk menampilkan pilihan warna (Colors) dan ketebalan (Weight) goresan tanda tangan.
Atur posisi tanda tangan dengan cara klik kanan pada tanda tangan, pilih Wrap Text dan Top and Bottom. Pilih juga Move with Text, agar tanda tangan berpindah posisi saat ada penambahan atau penghapusan teks pada halaman dokumen.
Menyimpan Gambar Tanda Tangan
Ada 3 cara yang bisa digunakan untuk menyimpan gambar tanda tangan, baik yang dibuat dengan Ink Tools Pen ataupun dengan Insert Shape di aplikasi Microsoft Office.
Cara 1: Menyimpan Dokumen yang Berisi Gambar
Setelah membuat tanda tangan, Anda tinggal menyimpan dokumen tersebut untuk di-copy paste ke dokumen yang lain.
Cara 2: Menyimpan Gambar dalam Format PNG
Ikuti cara berikut untuk menyimpan tanda tangan yang dibuat di Word atau Excel.
Copy gambar tanda tangan yang berada di Word atau Excel.
Buka aplikasi PowerPoint. Pada slide kosong, tempatkan gambar tersebut dengan menekan CTRL + V (Paste).
Kemudian klik kanan gambar dan pilih Save as Picture.
Di kotak:

File name: beri nama gambar.
Save as type: pilih format gambar PNG.

Akhiri dengan menekan tombol Save untuk menyimpan gambar.
Gunakan Insert | Pictures, untuk menyisipkan atau menaruhnya di dokumen Word, Excel, atau PowerPoint.
Cara 3: Menyimpannya ke Quick Parts Word
Kita juga bisa menyimpan gambar tanda tangan ke Quick Parts Word, sehingga bisa digunakan kapan saja di dokumen Word.
Lihat petunjuknya di: Cara Menyimpan Objek ke Galeri Quick Part.
Metode 2: Menggunakan Website Tanda Tangan Digital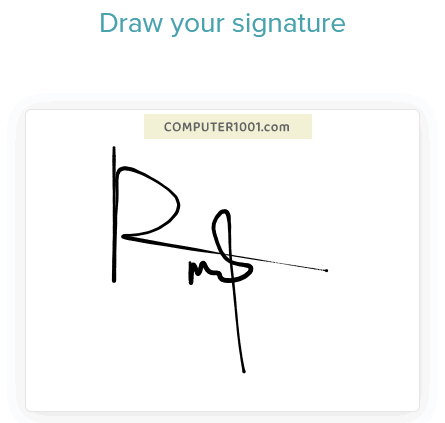 Anda bisa mengunjungi situs-situs berikut untuk membuat tanda tangan digital online secara gratis. Tergantung perangkat yang digunakan, Anda bisa menggunakan mouse, jari tangan, atau pen stylus untuk membuat gambar tanda tangan.
SignWell
Gunakan touchpad, mouse, ponsel, tablet, atau perangkat seluler lainnya untuk menggambar tanda tangan elektronik.
Atau ketik nama dan pilih font tanda tangan yang paling cocok dengan yang Anda inginkan.
Bisa pilih warna.
Signaturely
Buat tanda tangan dan download gambarnya dalam format PNG. Hasilnya bagus dan mulus seperti goresan tinta asli.
Ada pilihan ketebalan tinta, warna, dan angle atau arah tanda tangan. Dari hasil uji coba, penggunaan angle ini agak membingungkan dan hasilnya jadi tidak kelihatan. Bila belum mahir, sebaiknya memilih ketebalan dan warna tinta saja.
Kita juga bisa dengan mengetikkan nama yang kemudian akan diubah menjadi font tulisan tangan.
Dapatkan di sini: 14+ Font Tulisan Tangan Gratis
CreateMySignature
Buat gambar tanda tangan digital di komputer, tablet, atau perangkat seluler apa saja.
Hasil tanda tangan akan tersimpan dalam format PNG.
Di situs ini, kita juga bisa menandatangani file PDF secara langsung.
Hanya ada satu warna tinta, yaitu hitam.
Online Signature
Gunakan IPhone, IPad, ponsel berbasis Android, tablet, komputer, laptop, dan lain-lain; untuk membuat tanda tangan elektronik Anda sendiri.
Situs ini juga hanya menyedia satu warna tinta hitam saja.
Gambar dalam format PNG.
Metode 3: Menggunakan Aplikasi Gratis Android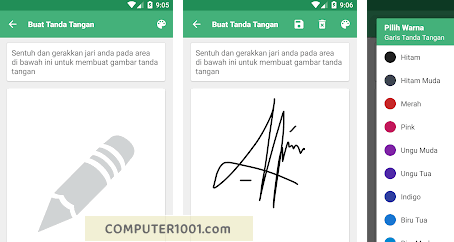 Ada banyak aplikasi tanda tangan yang gratis untuk pengguna handphone Android yang bisa didapatkan di playstore.
Berikut dipilih aplikasi yang memiliki review bagus.
Tiga aplikasi pertama bisa kita gunakan untuk membuat gambar tanda tangan. Kemudian pindahkan gambar yang dibuat ke komputer dan taruh di dokumen Word atau Excel dengan cara Insert | Pictures.
Gambar Tanda Tangan Digital
Aplikasi sederhana untuk membuat gambar tanda tangan dengan sentuhan pada layar perangkat atau telepon. Pengguna cukup melakukan sentuhan geser pada halaman yang disediakan untuk membuat garis tanda tangan. Kemudian simpan tanda tangan tersebut dengan nama yang telah ditentukan pengguna.
Tandatangan Digital PNG
Aplikasi yang ringan dan bisa offline. Gambar dalam format PNG. Pengguna dapat merubah warna pena. Dan juga bisa import atau drag drop ke dokumen seperti Microsoft Word (docx), WPS, Google Docs, dan lain-lain.
Digital Signature
Selain untuk membuat gambar tanda tangan, aplikasi ini juga memungkinkan pengguna untuk tanda tangan langsung pada dokumen.
Adobe Fill & Sign: Easy PDF Doc & Form Filler
Aplikasi gratis untuk menanda tangani dokumen PDF atau screenshot dokumen, dan juga bisa untuk mengisi formulir langsung. Selanjutnya simpan dokumen tersebut dan kirimkan segera via email.